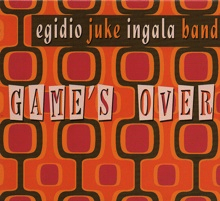 EGIDIO JUKE INGALA attivo sulla scena blues dalla metà degli '80 è partito dallo studio di personaggi come Little Walter e George "Harmonica" Smith per poi sviluppare in maniera originale un articolato lavoro di composizione che ha viaggiato di pari passo ad una scelta ripropositiva unica. Strumentista in possesso di un feeling innato ha da sempre rivolto particolare attenzione alla cura del suono ed alle potenzialità espressive dell'armonica, riuscendo a modellare quello che gli americani chiamano comunemente "big brass tone". La crescita e la definitiva maturazione arrivano con la formativa esperienza intrapresa con la band dei Dirty Hands, percorso progettuale che ha visto la realizzazione di tre album ed importanti collaborazioni con musicisti americani. La scelta di abbracciare la carriera solista ed il seguente sodalizio con il chitarrista americano Alex Schultz hanno portato all'incisione dell'album "Drivin' & Jivin' " vincitore in Francia del Premio Miglior Cd-Blues Europeo del 2003. Ora Egidio Juke Ingala si esibisce nei tour europei accompagnato dalla nuova band The Jacknives, con alla chitarra Marco Gisfredi
(Inglese)
EGIDIO JUKE INGALA active on the blues scene since the mid 80's party from the study of characters such as Little Walter and George "Harmonica" Smith, and then develop an original composition of a piece of work that has traveled hand in hand with a choice ripropositiva only. Musician holding an innate feeling has always paid particular attention to the care of the sound and the expressive potential of the harmonic, being able to shape what Americans commonly call "big brass tone".
The growth and maturation ultimately arrive with the educational experience undertaken with the band Dirty Hands, the planning process that has seen the construction of three major albums and collaborations with American musicians.The choice to embrace a solo career and the following association with guitarist Alex Schultz led the incision album "Drivin '& Jivin'" winner in France Award Best European Blues CD-2003. Now Egidio Juke Ingala performs in European tours accompanied by his new band The Jacknives, with the guitar Marco Gisfredi
Acquista l'album a solo 9.90€
Ti verrà spedito a casa...