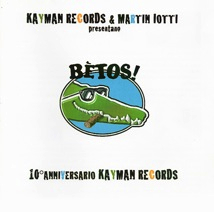 MEL PREVITE special guest Martin & La Sua Band
MEL PREVITE , chitarrista e cantante conosciuto per la sua collaborazione con Ligabue, presenta questa nuova formazione con la quale propone una miscela tra il rock'n'roll , il soul, ed il rhythm'n'blues fatto di arrangiamenti sui brani classici del genere e brani originali. La particolarità di questa band sta sicuramente nel suono graffiante ed energico, che si contraddistingue per la grande ritmica di Oscar Abelli alla batteria e Martin Iotti al basso e voce. Mel Previte già collaboratore di diversi artisti a livello nazionale ed internazionale, tra i quali ricordiamo R.Gordon, è considerato uno dei migliori chitarristi a livello europeo per il suo particolare e personale stile inconfondibile.
(Inglese)
MEL PREVITE, guitarist and singer known for his collaboration with Ligabue, presents this new formation with which proposes a mix of rock and roll, soul, rhythm and blues and made arrangements on classic songs like and original songs. The particularity of this band is definitely in the scratchy sound and energetic, which is characterized by the great rhythm of the drums and Oscar Abelli, Iotti Martin on bass and vocals. Mel Previte who has worked with several national and international artists, among which R.Gordon, is considered one of the best guitarists in Europe for his unique and personal style.
Acquista l'album a solo 9.90€
Ti verrà spedito a casa...