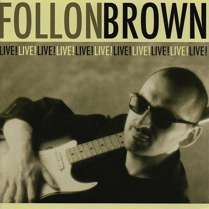 Acquista l'album a solo 9.90€
Ti verrà spedito a casa...
FOLLON BROWN
Chitarrista e cantante, già conosciuto come session-man di diverse band della Kayman Records, presenta al pubblico questo suo cd-album da solista che vede la partecipazione di diversi musicisti della scena musicale italiana, tra i quali ricordiamo il compositore ed arrangiatore Fabrizio Ferrari. In questo cd-album dal titolo "Live" Follon Brown fa un vero e proprio omaggio ai suoi ispiratori principali: Freddy King e Magic Sam, un viaggio nel rhythm'n'blues tra feeling e sfumature originali. 
FOLLON BROWN 
Guitarist and singer, formerly known as session-man of several bands of Kayman Records, presents the public with this cd-his solo album which sees the participation of several musicians of the Italian music scene, amongst which the composer and arranger Fabrizio Ferrari. In this CD-album titled "Live" Follon Brown is a real tribute to his main inspirations: Freddy King, Magic Sam, a trip between feeling and rhythm and blues in the original nuances.